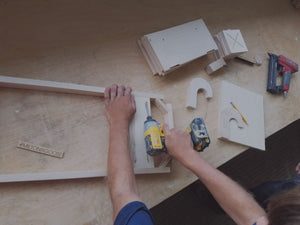 Our Artisans
Partners & Process
When we set out to make heirloom-quality products for our kids, we knew we wanted to support
American crafters to make that happen.


With that commitment to keeping our manufacturing stateside, we
began the journey of finding the right people to turn our ideas and
sketches into reality. We're proud to work with our American
manufacturing partners, all experts in their field and many of them
small, family-owned operations to bring you the best.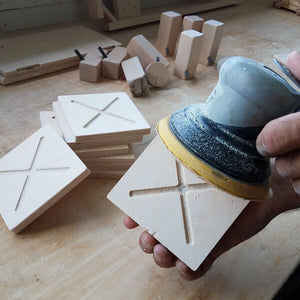 Tradition of Woodworking & Craftsmanship
In Pennsylvania, we partnered with second-generation Amish toymakers to make our best selling Essential Play Kitchen. Their family-owned and operated workshop employs local woodworkers and works with many family-owned shops in and around Lancaster County, keeping the area's long tradition of woodworking and craftsmanship alive. Their facility also operates mostly off-the-grid with an intentional focus on reducing material waste and conserving electricity.
And not far from our Lancaster toymakers, we found the most skilled furniture-makers to create our Crescent Collection of tables and chairs. They have been making the finest quality full-sized tables and chairs for many years, which is evident when you see the craftsmanship in their pint-sized furniture.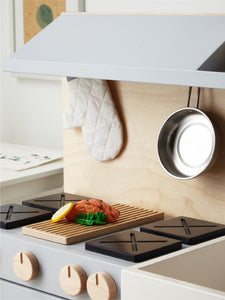 For our play food, we spent months sourcing the right partners and were lucky enough to find our skilled woodworking team in Ohio, who create not only the most magnificent items, but work like a family to make it all happen. They turn each Play Food piece from solid wood. From our Dairy Set of solid maple to our Veggies set of maple, hickory, and gorgeous cherry, our play food is extra special because of the care and attention put into every piece.
Great People, Great Products
We're proud to work with incredible people who happen to also be incredible artisans to bring you the finest quality children's toys and furniture. We hope our products bring hours of joyous playtime and happy memories to your family. And when you're through, we look forward to seeing them lovingly passed down.
Materials & Safety

We source the finest quality materials for our products and then test everything with a third-party
CPSC-approved laboratory to ensure the ultimate safety.

All of our products are tested for lead, heavy metals, and phthalates, in addition
to complying with the stringent California Prop 65 threshold for hazardous substances.

Wood
Maple
Baltic Birch Plywood
Hickory
Cherry
100% Wool Felt
Non-Toxic Paints & Finishes

Our products also meet or exceed all ASTM toy safety standards.